ELIMINATE Corona and Influenza with equipment from professional industrial air cleaning equipment manufacturer.
New air purifiers designed to stop corona (COVID-19 causative virus) spreading in public rooms

UlmAIR is a professional air purifier designed for use in rooms where several people stay for a long time, as it not only purifies the air, but also stops the spread and transmission of viruses and other contaminants. This air purifier create a stream of clean air upwards, where it faces the ceiling, spreads evenly throughout the room, and then returns downwards, from where it is filtered again.
The UlmAIR air purifier is specially designed to push down all air pollution particles, including viruses, and prevent them from spreading further into the air. It uses a stream of purified air to create an invisible barrier of air between people, acting like plastic walls in public places.


World Innovation!

UlmAIR air purifiers ar designed for use in offices schools, fuel stations , shops, entertainment and sports facilities, changing rooms and other public places.
Defeat viruses!

UlmAIR AIR PURIFIERS CAN ENSURE HIGH AIR QUALITY UNDER CONDITIONS WHEN LARGE NUMBER OF PEOPLE ARE IN PUBLIC AREAS AND HALVE CONCENTRATION VIRUSES IN A FEW MINUTES AFTER STARTING THE UNIT
UlmAIR AIR PURIFIERS ARE DEVELOPED TO PREVENT COVID-19 INFECTION BY INHALING A HIGH VIRUS CONCENTRATION AEROSOL.
OPERATING OF THE UlmAIR AIR CLEANER IN THE ROOM AND FOLLOWING THE REQUIREMENTS OF INFECTOLOGISTS, THE RISK OF COVID-19 INFECTION BY INHALATION OF AN AEROSOL IS NEARLY ZERO.


Five-stage filtration (scientifically proven function)

tested according to DIN EN 1822 with high-efficiency filter HEPA H-14 (99.995% separation)

Main filter life in standard office conditions up to 5 years and easily replaceable pre-filter

Virus killing and inactivation (including corona and influenza) by heating. Provides the destruction of viruses in the depth of the filter fiber

Automatic power control with CO ₂ sensor and alarm for exceeded CO2 level in the room

Manual power adjustment 20-100%

Reduction of heat loss by 80% by using ventilation through windows and significantly reduced risk of colds when ventilating rooms through windows

Air heating function

360 ° air inlet and optimal air distribution to the room

Quiet continuous operation with sustainable fan technology

Programmable operation timetable to ensure automatic shutdown of the machine before and after the end of the working day

Design with individual

personalization
The ULMAIR CV-X45, ULMAIR CV-X80 UN ULMAIR CV-X200 handle:
Viruses & bacteria

Tobacco

Spores & pollen

Toner dust

Hair & large dust

Odor particles
Important to know
Only H-14 HEPA filters are suitable for virus filtration

High change rate (approx. 6x/hrs) prevents infectious air concentration

The CV-X45, CV-X80 and CV-X200 Halve the aerosol concentration in 3-15 minutes

Scientifically proven virus inactivation

No harmful UV-C radiation and no ozone (rejected by the German Robert-Koch-institute)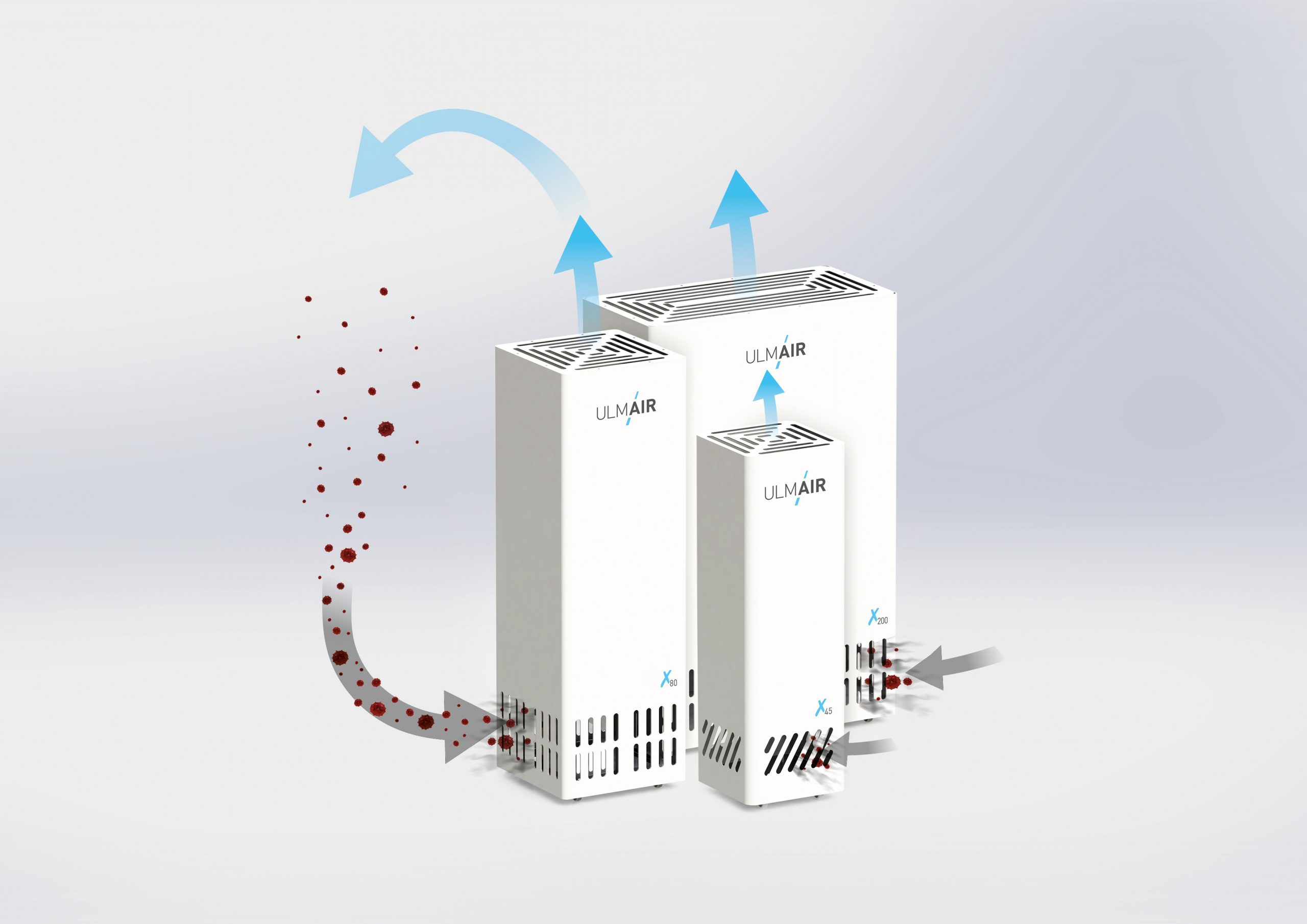 EQUIPMENT SELECTION (Ceiling height 2,5m)
X45 for rooms 20 – 50 m²
X80 for rooms 55 – 90 m²
X200 for rooms 95 – 200 m²

For correct selection of equipment if ceiling height is different from 2,5m, please contact us.
Get quote
Benefits / Advantages
Clean and safe air for you and your customers / guests

Well-being and increased feeling of security

Lowering the risk of infection from corona and influenza

Fresh air for allergy sufferers / asthmatics by minimizing the pollen load

Reduction in the rate of disease caused by germs, bacteria and viruses

Increase in work performance in clear air

Acceleration of the fresh air distribution in the room when ventilating

Best room-price-index on the market
Areas of Application
Gastronomy and accommodation

Companies, public institutions, schools, banks, petrol stations, churches, mosques, etc.

Retail, drug stores, bakeries, car dealerships

Sport, leisure, wellness, music

Healthcare, hospitals, doctors' offices, physiotherapists
Find out more
To receive offer contact us
Main technical data